Festival of Media Global 2018: uno sguardo al futuro dei media e dell'advertising
Il Festival of Media Global 2018 è stato l'occasione per capire in che direzione si stanno muovendo i media, i suoi protagonisti e gli investimenti.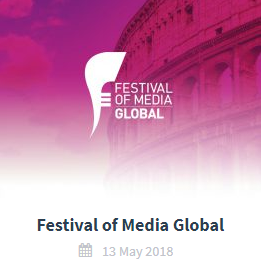 È ormai un appuntamento immancabile per brand, agenzie, centri media, aziende del tech e chiunque abbia a cuore le sorti dell'industria pubblicitaria: anche il Festival of Media Global 2018, grazie a una formula consolidata nel tempo, si è confermato così un buon punto di partenza per capire in che direzione si stanno muovendo il mondo dei media e i suoi protagonisti.
Tutta l'ispirazione di cui il mondo dei media ha bisogno sul main stage del Festival of Media Global 2018
A partire da una constatazione: il mondo è un posto migliore quando ciascuno è incluso (questo, tra l'altro, è stato il titolo dello speech di apertura della prima giornata) e chi vuole investire, in maniera efficace e avendone un ritorno, sui media non può ignorare oggi i temi dell'inclusione, della diversità, del responsabilità sociale e del commitment aziendale. Il mainstage del Festival, così, si trasforma per due giorni soprattutto in un luogo d'ispirazione. Lo fa grazie alla presenza – fisica, coinvolgente – di figure come Caroline Casey (attivista e fondatrice di #Valuable, un movimento che ha come obiettivo spronare i brand a valorizzare la disabilità) o Neil Harbisson (artista, cyborg e sostenitore di un nuovo umanesimo in cui i confini corpo-macchina sono talmente sfumati da non esistere più) e ancora, nella seconda giornata, Tia Castagno (insegnante di yoga e fervente sostenitrice dell'importanza della meditazione nella gestione dello stress lavorativo). Se anche un brand può diventare però fonte d'ispirazione, è presto spiegata la presenza nella plenaria del Festival of Media Global 2018 di brand di culto e love brand come LEGO, Mars, Adidas con le loro storie di coraggio e innovazione.
Tre sale tematiche per indagare presente e futuro dei media al #FoMG18
Decisamente più concreti e pensati per fornire best practice, modelli e strumenti di misura agli addetti ai lavori gli interventi delle tre sale tematiche.
Tanti casi di studio si sono alternati, per esempio, nella Content Zone – dalla campagna di promozione territoriale che ha visto le istituzioni di Malta collaborare con un'emittente come MTV, alle esperienze già avviate in Europa di addressable TV, passando per esperienze come quella di Toyota, sponsor di gare olimpiche e paralimpiche, nonostante si sia dimostrata, forse, la più agée e ridondante tra i corner tematici.
Decisamente più orientati al futuro, invece, gli interventi e i contenuti della Future Zone: protagoniste quasi indiscusse sono state, infatti, realtà virtuale, realtà aumentata e intelligenza artificiale, nella loro applicazione più quotidiana ma non per questo meno disruptive; tanto lo spazio dedicato però anche a trend difficilmente ignorabili per i marketer, come la sempre maggiore popolarità degli assistenti vocali, delle misurazioni biometriche e dell'out of home advertising.
Alla Control Zone, invece, il compito di approfondire temi come la gestione e l'approccio ai dati da parte delle aziende, anche alla luce della prossima entrata in vigore del nuovo GDPR e di un dibattito sempre più corposo rispetto all'etica del marketing e della pubblicità.
Come pensare un evento per fare network professionale
Nonostante i tanti temi trattati, e nonostante soprattutto la presenza di alcuni dei più importanti professionisti e brand del settore a livello internazionale, comunque, l'impressione è che il Festival of Media Global 2018 sia stato, a livello di contenuti almeno, votato a un'essenzialità che più di una volta ha rischiato di trasformarsi in ridondanza e ripetitività, soprattutto se si considera che si tratta di contenuti rivolti a un pubblico di professionisti, che è facile da immaginare abbiano già buona familiarità con i temi e gli argomenti in questione.
Forse perché l'anima, dichiarata, del #FoMG è — e resta – quella di un'occasione per fare network e permettere l'incontro tra la domanda e l'offerta in un campo come quello dell'advertising e degli spazi media. Una vocazione che, in questa occasione più che nelle altre edizioni a cui abbiamo partecipato come media partner, è stata sottolineata anche nell'architettura dei tempi e degli spazi. Coffee break e pause pranzo più lunghe – quest'ultima, soprattutto, non nel lounge ma in una delle sale ristorante del Rome Cavalieri Waldorf Astoria, attorno a grandi tavoli sociali che permettevano l'interazione tra i commensali – e un white party di benvenuto, come l'aperitivo musicale organizzato alla fine della prima giornata, sono state occasioni leisure per incontrare colleghi, stakeholder e dare il via a nuove, possibili collaborazioni. Anche gli spazi, così – dal lounge con tanto di prato sintetico e sedie a sdraio per il sole, alle cabine più appartate dove sedersi a fare due chiacchiere – sembravano premiare le interazioni, anche informali, tra speaker, delegati aziendali, sponsor, stampa.
Da media partner abbiamo avuto modo di interfacciarci, durante le settimane che hanno preceduto l'evento, con Steve Outridge, head of marketing del festival, che è stato particolarmente disponibile nella fase di organizzazione delle interviste con i diversi relatori che abbiamo cercato di contattare, nella maggior parte dei casi molto cordiali, disponibili e preparati. Durante tutto l'evento ci è stato possibile realizzare interviste in perfetta tranquillità, in una sala dedicata alla stampa.
Due piccoli appunti? Interessante l'idea di arredare le diverse sale in modo tematico (grandi pouf colorati che davano l'idea di vicinanza e partecipazione nella Content Zone; un gioco di luci hi-tech nella Future Zone, ecc.); un po' meno quella di allestire una lunga passerella che tagliava in due il mainstage, dal momento che in più di un'occasione gli speaker si trovavano a dare le spalle ad almeno una parte del pubblico.
Chi (e come) ha parlato in Rete del Festival of Media Global 2018
Uno sguardo alle conversazioni in Rete e a come è stato usato l'hashtag ufficiale del Festival of Media Global 2018 (possibile grazie ai dati ottenuti con Talkwalker) serve, infine, a conferma di quale sia davvero il target di un evento come questo: responsabili aziendali, direttori esecutivi, agenzie media, spesso già facenti parte di una stessa rete, e che sfruttano la due giorni romana per rafforzare le loro relazioni, on e offline.

&copy RIPRODUZIONE RISERVATA E' vietata la ripubblicazione integrale dei contenuti