#ProudInMyCalvins: la campagna di Calvin Klein lanciata nel mese del Pride con 9 attivisti del mondo LGBTQ come modelli
Tra i volti della campagna di Calvin Klein #ProudInMyCalvins, realizzata per celebrare la comunità LGBTQ, anche la modella curvy afroamericana transgender Jari Jones, una scelta che risulta ancora più significativa durante le continue proteste a supporto del movimento Black Lives Matter.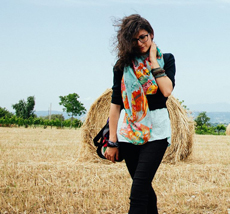 Nel mese dedicato al Gay Pride del 2020, come avvenuto anche lo scorso anno, diversi brand hanno lanciato delle specifiche campagne o veicolato messaggi ad hoc, sui social e non solo, per celebrare la comunità LGBTQ. Tra questi c'è anche Calvin Klein che ha creato una capsule collection e ha scelto come modelli proprio 9 attivisti del mondo LGBTQ per la campagna #ProudInMyCalvins.
La capsule collection Pride 2020 e i 9 modelli della campagna #ProudinmyCalvins
Più corretto, però, sarebbe dire che l'attenzione del brand all'apertura e al dialogo con le diverse comunità, compresa quella LGBTQ, fa parte della sua comunicazione già da tempo, in un perfetto esempio di brand activism, e #ProudInMyCalvins è stata lanciata già a metà maggio.
Calvin Klein is a longtime supporter of the LGBTQ+ community. This year we are proud to partner with @OutRightIntl's COVID-19 Global Emergency Fund, @onePULSEorg and @PFLAG National. pic.twitter.com/GE5t7ueYLR

— calvinklein (@CalvinKlein) May 14, 2020
In questo tweet, ma anche sul sito del brand, si legge che «Calvin Klein sostiene con orgoglio la missione di uguaglianza LGBTQ+ di OutRight Action International e il suo lancio di un Fondo di risposta alle emergenze COVID-19 per la comunità LGBTQ+», con il lancio della collezione Pride 2020, fatta di capi di abbigliamento minimalisti, anche abbastanza classici, con dettagli tie-dye e la presenza del simbolico arcobaleno di colori su ciascuno di essi.
Per la relativa campagna il brand ha scelto 9 «musicisti, artisti e trendsetter della comunità LGBTQ+»: Ama Elsesser, Reece King, Tommy Dorfman, Gia Woods, Mina Gerges, Jari Jones, Pabllo Vittar, Chella Man e MaryV.
#PROUDINMYCALVINS by Ryan McGinley @pabllovittar
Tommy Dorfman@chellamanart@maryvbenoit@reeceking_@itsminagerges@iamjarijones
Ama Elsesser@giawoods

Watch the full video:https://t.co/e71kNC58y8 pic.twitter.com/4PLSKW80AM

— calvinklein (@CalvinKlein) May 14, 2020
Sul sito, sotto alcuni degli scatti che presentano i capi, sono presenti anche diverse citazioni degli stessi modelli.
Queste citazioni, insieme agli altri materiali fotografici e video realizzati per #ProudInMyCalvins, esaltano quello che è il tema centrale della campagna, presentato dal fotografo che l'ha scattata, Ryan McGinley, come un voler esaltare l'unicità del singolo individuo. «Con un cast e una troupe che coprono l'intero spettro LGBTQ+ – ha aggiunto McGinley in una dichiarazione ufficiale – abbiamo voluto assicurarci che l'intera comunità si senta rappresentata, inclusa e celebrata».
Il racconto di ciò che rende ciascuno dei modelli scelti unico è stato realizzato sia in formato video, con numerosi caricamenti sul canale YouTube di Calvin Klein, sia in formato testuale nel copy delle condivisioni sui social.
Visualizza questo post su Instagram

target ="_blank" rel="noopener">What makes you unique? What makes you you? What makes you proud? #PROUDINMYCALVINS ⠀⠀⠀⠀⠀⠀⠀⠀⠀⠀⠀⠀⠀⠀⠀⠀⠀⠀⠀⠀ @iamjarijones, @reeceking_, @maryv, @itsminagerges, @chellaman, @amaelsesser, @pabllovittar, @giawoods, @tommy.dorfman ⠀⠀⠀⠀⠀⠀⠀⠀⠀⠀⠀⠀⠀⠀⠀⠀⠀⠀⠀⠀ By @ryanmcginleystudios ⠀
Visualizza questo post su Instagram

"I was in a very conservative, small town, so I didn't physically have people around me that I felt mirrored who I was. So I took to social media , being Generation Z, and I think I just saw people thriving, people who identified as queer, whatever that meant to them, or disabled, or Asian. And I felt seen that way. And when I took a selfie, or posted something, or even just made those connections in my head without sending any other message out, I felt represented that way. And I decided to be my own representation through that, through just being and accepting that this is who I am." ⠀⠀⠀⠀⠀⠀⠀⠀⠀⠀⠀⠀⠀⠀⠀⠀⠀⠀⠀⠀ @chellaman on Identity. #PROUDINMYCALVINS ⠀⠀⠀⠀⠀⠀⠀⠀⠀⠀⠀⠀⠀⠀⠀⠀⠀⠀⠀⠀ By @ryanmcginleystudios
"Change starts somewhere, and it might as well start with me." ⏤ @itsminagerges by Ryan McGinley #PROUDINMYCALVINS

Watch more from #MinaGerges:https://t.co/exqx7QYyu8 pic.twitter.com/tfrZ3kC9OL

— calvinklein (@CalvinKlein) May 18, 2020
Perché la scelta della modella curvy afroamericana transgender Jari Jones per questa campagna Calvin Klein 2020 è particolarmente significativa
Tra i modelli scelti per la campagna Pride 2020 di Calvin Klein anche la transgender afroamericana Jari Jones.
"That's what we're put on earth here to do, to love." ⏤ @IAmJariJones by Ryan McGinley #PROUDINMYCALVINS

Watch more from #JariJones: https://t.co/FLCUPklB3c pic.twitter.com/wR4Q7pyYcN

— calvinklein (@CalvinKlein) May 15, 2020
La modella ha festeggiato il coinvolgimento in questa global campaign del brand con grande gioia, esultando davanti all'annuncio pubblicitario affisso a Manhattan, e a congratularsi con lei per questo "traguardo" raggiunto è stato anche il fotografo McGinley.
Per Jari Jones, infatti, questo ingaggio è stato come una sorta di rivincita rispetto ai tanti «mai!» che si è sentita dire nella vita e una soddisfazione personale per aver potuto finalmente «presentare le immagini di un corpo che troppo spesso è stato demonizzato, molestato, fatto sentire brutto e indegno e persino ucciso…», con la speranza che la sua comunità e la sua «famiglia scelta» possano sentirsi rappresentati e «si rendano inoltre conto di essere degni di celebrazione, compassione, amore e gratitudine».
Per #ProudInMyCalvins la modella si è raccontata a fondo, in tutte le paure e le difficoltà sentite o riscontrate durante il periodo di transizione.
Sui social, però, dove succede fin troppo spesso di riscontrare pratiche di body shaming o di hate speech , ancor di più quando sono pubblicati post che mirano invece all'inclusività, non sono mancati insulti alle condivisioni social della campagna e su Twitter il brand ha chiesto esplicitamente agli utenti di mostrare rispetto, precisando che «commenti di odio o offensivi saranno rimossi».
We embrace our Twitter channel as a platform to foster an inclusive environment for respectful expression. At CALVIN KLEIN, we tolerate everything except intolerance. Any hateful or offensive comments will be removed.

— calvinklein (@CalvinKlein) June 25, 2020
Anche la modella Jari Jones si è espressa al riguardo, condividendo sul proprio profilo Instagram un post con alcuni screenshot dei commenti negativi e cattivi ricevuti personalmente, scrivendo un lungo copy corredato di hashtag , primi dei quali #translivesmatter e #blacklivesmatter.
Due hashtag – utilizzati dalla Jari Jones anche in un tweet del 19 giugno – che mettono in luce quanto sia stato significativo il coinvolgimento di una modella transgender afroamericana nella campagna di Calvin Klein: da un lato si cerca di superare, ancora una volta, gli stereotipi di genere in pubblicità e dall'altro ci si schiera – ancora e come hanno fatto tanti altri brand, ad esempio Nike, con "For Once, don't do it" – con il movimento Black Lives Matter, che pretende che alla vita dei neri e a quella di chiunque altro siano dati il dovuto rispetto e la dovuta importanza.
Today, on #JUNETEENTH2020 a Fat Black Trans Woman Looks over NEW YORK !!! 😭😭😭😭 #BlackTransLivesMatter #BlackLivesMatter #ProudinMyCalvins @CalvinKlein pic.twitter.com/Kvth3oCXw4

— Jari Jones (@IAmJariJones) June 19, 2020
E nell'attuale scenario in cui le proteste contro il razzismo, a seguito della morte di George Floyd, non si fermano in America – continuando anche in diverse altre parti del mondo – l'affissione pubblicitaria a New York con l'immagine di una «grassa nera donna trans» – come ha scritto sarcasticamente la modella in un tweet – acquisisce, se possibile, ancor maggior rilievo, risultando ulteriore megafono di un importante ed essenziale messaggio sociale.